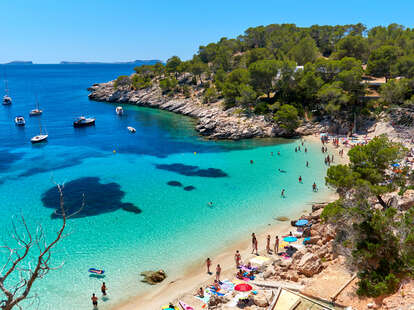 The month of May is officially here, which means our social media feeds have been (or are about to be) overtaken by NSYNC and Star Wars memes. More importantly, though, it also means we're mere weeks away from the unofficial start of the summer travel season and the first company holiday many of us have had since February: Memorial Day weekend.
If you've looked at the price of flights lately, it should come as no surprise that this travel season is going to look a little different than the last few have. Demand—especially for international travel—is finally returning to or exceeding pre-pandemic levels, and prices are also rising as a result. That means we've all got to work just a bit harder to find those deals on hotels, rental cars, and whatever else you need to make your summer vacation a success. And if you can't get your passport renewed in time or the math just isn't mathing on a trip for this summer, it's also not too early to start looking ahead to a fall vacation, when even bigger, off-peak deals can be had.
To help you out, we've rounded up some of the best travel deals out there right now, all in one place. A mix of affordable and aspirational, these deals have a bit of something for everyone. Even better, we'll continually update this story at least once a week as we learn of new deals and as others expire. Bookmark this page and we promise you'll always have something good to come back for.
Flight Deals Right Now
Southwest Airlines
The airline is currently running a sale offering discounted flights starting at $59 one-way. The deal is available on continental US travel between May 16 and June 21, 2023, as well as August 8 through November 1, 2023. Discounted airfare is also available to Hawaii, Puerto Rico, and international destinations, though those travel dates are a bit more limited. The sale ends May 4 at 11:59 pm PT.
Breeze Airways
The low-cost airline has a new promotion offering discounted airfare starting at $34 one-way from 30 cities for June travel. The "Seriously Nice Summer" sale is running through 11:59 pm ET on May 8, 2023 for trips from May 31 until June 20, 2023. Some blackout dates and other restrictions may apply.
JetBlue
JetBlue just launched its new nonstop Amsterdam flights departing from both Boston and New York, and the airline is offering the flights at a discounted rate for a limited time. Airfare is starting at $479 roundtrip. The flights from New York begin on August 29, while the flights from Boston start on September 20.
Hawaiian Airlines
You can score cheap airfare from the mainland to a number of in-demand Hawaiian destinations from many mainland cities right now, as long as you're OK with the flight being somewhat last minute. Flights booked through the airline's one-way fare sale from San Jose to Kona start at $119 one-way for travel between May 16 and May 29, while flights between LA, Long Beach, San Francisco, and San Jose and destinations like Kahului, Kona, and Lihue are also available at discounted rates for travel between mid-May and mid-June. Select flights to Hawaii from Portland, Seattle, Phoenix, Austin, Boston, and New York are also on sale.
Spirit Airlines
The budget airline is offering up to 30% off vacation packages, allowing travelers to save significant cash when you book your flight, hotel, and/or rental car all together through the airline. One deal offers a Chicago package to Las Vegas starting at $201 per person for a three-night stay, while another three-night Detroit package to Cancun starts at $289 per person.
Etihad Airways
The airline has discounted stopover flight packages right now including 40% off two or four-night hotel stays in Abu Dhabi hotels, one or two-night free stopovers in selected hotels, and free accommodations for travelers with a connecting flight in Abu Dhabi. The airline's stopover program also offers discounts on restaurants and experiences. More details are available here.
Frontier Airlines
Frontier has launched a $699 subscription for unlimited summer travel (a big savings from its usual $999 cost). Its Summer GoWild Pass can be used for both domestic and international travel between May 2 and September 30.
Delta Air Lines
Delta AmEx cardholders can now earn award flights obtained using their SkyMiles at a 15% discount through the airline's new "TakeOff 15" promotion.
Hotel Deals Right Now
World of Hyatt
Travelers can get up to 20% off through Hyatt's Book Now & Save promo at more than 1,000 Hyatt hotels and resorts this summer using the promo code LOCKITIN when they book by May 23, 2023. The deal is available for stays from May 23 through September 10, 2023. World of Hyatt members receive additional savings.
Extended Stay America
The hotel brand just announced additional benefits through its Extended Perks membership program and a few upcoming deals. From April 27 through May 1, members can get up to 45% off stays of seven nights or more through the STAY Longer Sale using the promo code TODAY. On May 4, members can get up to 55% off stays of seven nights or more through the company's May the Fourth Be With You flash sale. And for Memorial Day bookings from May 25 through May 29, members can also get up to 55% off stays of seven nights or more. Members also get a reduced member rate and other benefits.
The Restoration Hotel Charleston
The boutique Charleston hotel is offering 15% off Monday through Friday bookings there through May 31, 2023. The hotel is also offering a $25 dining credit at its The Watch Rooftop Kitchen & Spirits.
Omni Hotels & Resorts
The company is offering two promotions this summer, including up to 20% off stays through its "Longer Days, Longer Stays" offer through September 28 (10% off one night, 15% off two nights, or 20% off three nights). Its "Carried Away" promotion is also offering savings on stays of at least two nights at Omni's resorts. When you book through September 7 for stays through September 8, you'll get a $200 resort credit or $50 hotel credit and a custom-designed SCOUT Bags summer tote.
Disney Springs Resort Area Hotels
The seven properties located within the Disney World resort area are offering rooms starting at a discounted rate of $97 for stays between May 1 and August 31, 2023 right now. Some blackout dates may apply.
Sonesta Hotels
The hotel brand is offering several deals on summer travel right now. You can save up to 30% on stays at any Sonesta property of more than two nights using the promo code SUM2023. The deal is good for stays between May 23 and September 15, 2023. Royal Sonesta New Orleans is also offering reduced rates starting at $159 per night with free parking for stays through September 10, 2023.
Motel 6
Right now, travelers joining Motel 6's rewards program, My6, will receive 6% off their stay at all Motel 6 and Studio 6 properties. My6 members also get up to 30% off Avis car rentals, free delivery from DoorDash and Grubhub, and $30 off airfare purchased through the Cheap O Air platform.
Capital One Travel
VentureX cardholders can earn a $100 "experience credit" if they stay at any of the card company's new Premier Collection of hotels and resorts. The credits can be applied to dining, spa services, and more. Room upgrades, when available, are also offered to cardholders.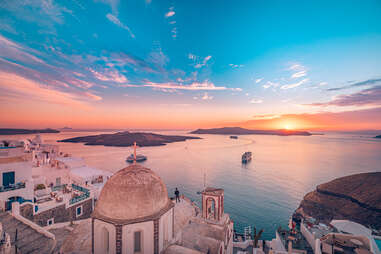 Cruise Deals Right Now
Costa Cruises
The cruise line is currently running a spring sale promotion with discounted fares as low as $489 per person across select itineraries in the Mediterranean, northern Europe, and transatlantic. The deal is available for bookings through May 31 for a selection of itineraries through November 2023. Some blackout dates and occupancy restrictions may apply.
Lindblad Expeditions
The cruise line is allowing any passengers to cruise under the age of 22 to cruise for free on select Lindblad Expeditions-National Geographic sailings this summer. To get the deal, travelers under 22 need to travel with an adult paying full price in a double occupancy cabin. The offer is available on bookings completed by June 30, 2023, using the promo code CHLD FR.
Hurtigruten Cruises
The Norwegian cruise company is celebrating its 130th anniversary with a deal on two of its signature sailings. Select sailings of both its Svalbard Express and North Cape Express offerings are now available to book at up to 30% off standard rates. The deal is good through August 31, 2023.
Disney Cruise Line
The popular cruise line is currently offering up to 35% off select sailings from a number of destinations including Rome, Barcelona, Copenhagen, Southampton, Miami, Vancouver, and Port Canaveral.
Royal Caribbean
The cruise line is now offering 30% off all its cruises alongside its "Kids Sail Free" promotion. More details on available sailing dates are available here.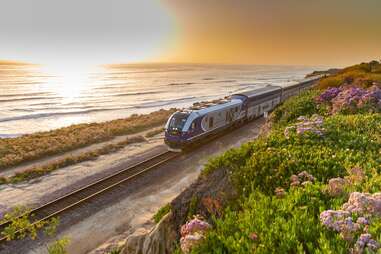 More Travel Deals Right Now
RVshare
The RV rental company is giving away $500,000 in national and state park passes with rentals booked by May 31, 2023 for travel by September 5, 2023. Travelers eligible for the free passes must book a rental of at least three days.
Rocky Mountaineer
The train known for its Rockies to Red Rocks route is offering up to a $1,000 discount per couple (or $500 per person) on its US route for 2023, and savings on its iconic Canadian routes as well. The deal is available for select travel dates made through the train's sales center, through a travel agent, or directly on its website. The deal is available through May 31, 2023.
Amtrak
The rail service is offering its new discounted "Night Owl" tickets on the Northeast Corridor right now. Additional current Amtrak deals can be viewed here.
Cabana
The camper van rental startup has a number of deals to help you save money on your next adventure right now. You can get $200 off bookings of five nights or more using the promo code EXTENDEDSTAYS, or $600 off bookings of ten nights or more with the code EXTENDEDSTAY10. One way trips from select markets are available for $75/night, and teachers and first responders can both get 20% off their stay. The service is available in Seattle, LA, San Francisco, and Austin.
Missing Anything?
If you know of other travel deals that we missed, help us spread and word by emailing us at [email protected].